There are so many factors that make up the look of a gorgeous wood floor. Color is often the first thing people think of, but texture can make even more of a statement. Both good and bad.
You'll notice that, in 2017, flooring is all about texture. In fact, companies are going through so much trouble to add texture to smoother surfaces to give homeowners the rustic, earthy feel that is so in right now.
---
There is so much to think about when you purchase a new wood floor, but with our Buyer Basics Wood Flooring tutorial, we will answer all your questions and get you on your way to your perfect floor!
New flooring is a great way to improve your home, but not a lot of us know how to get started. There are so many options! Should you get carpet or tile? Porcelain tile or ceramic tile? What about wood, or bamboo? Wait, is cork flooring a real thing?
---
People are getting ultra creative when it comes to the layout of their floor. Patterns, angles, you name it. Of course, not all patterns are created equal.
There are plenty of dated pattern looks or patterns that only work in specific situations. However, there are plenty of hot looks going on right now that anyone can rock with the right modern decor.
---
Gone are the days of ultra glossy finishes. Homeowners are now choosing understated, flat finishes with less shine.
Just like photos, glossy is just that – glossy; reflecting light, shiny, lustrous and practically unignorable. Matte finish is that flat finish that your fingers don't stick to. It can look dull, but it looks much more natural and is often a stylistic choice for both flooring and photos.
---
This is the big question, right? You know the types; you can weigh the pros and cons…kind of. What you really need to know about underlayment is which option is the best choice for you. Don't worry; we're not gonna leave you hanging.
---
Vinyl flooring is like the Generation Z flooring. No, it's not just for teenagers and people in their 20s; it is representative of our current culture and desires. Everything these days is about ease, efficiency and technology. I'm pretty sure Siri can order a pizza for me, so all of my home investments better be able to keep up with the times!
---
Linoleum is made from all natural materials, including linseed oil, rosin, broken down wood and others. This is one of linoleum's highest selling points – all natural without emitting any harmful chemicals. Linoleum is also known for its resiliency. Resiliency when it comes to flooring means that the floor is flexible and has some "give" to it. This makes it possible to install the flooring in areas where harder flooring options like tile and natural hardwood would not do well.
---
There is a common confusion between laminate and vinyl flooring. Vinyl has a natural resistance to water and moisture, whereas laminate is typically more susceptible to damage when moisture is present.
Classic laminate construction is made of wood particles, which is likely to swell when moisture is heavy. If you choose to purchase laminate, your best investment is choosing a product with an HDF core. These provide greater resistance to swelling with moisture.
---
If you are like me, you may immediately think of vinyl records, or perhaps vinyl shower curtains, or maybe even the old vinyl flooring you saw in your grandparent's house when you were a kid when you think about Vinyl.
Get that out of your mind – vinyl is now a flooring solution. Not only that, but it is one of the most popular flooring options in the world.
---
Similar to tile and vinyl, laminate flooring is upping the ante on realistic wood looks. Once upon a time, you could only get the smooth, basic, not-even-believable wood looks.
Now, you will find laminate flooring available in styles that mimic current wood flooring trends. And chances are, you won't even know they're laminate.
---
Quick Estimate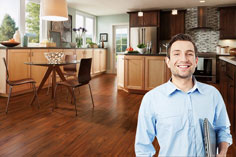 Fill out our contact form below and send to us for a 100% FREE ESTIMATE! We will go to your home or business and give you an accurate quote right there, on the spot!
Atlantic Coast Flooring Inc
105 lock rd Deerfield Beach, FL
Direct Number: (954) 803.0222
contact@atlanticcoastflooring.com
Atlanticcoastflooring@gmail.com
License: CC#15-FL-19907-X